According to a recent Gallup poll, 43% of uninsured Americans report the reason they do not have health insurance is due to the high cost. The Affordable Care Act was designed to lower insurance premiums in order to make coverage accessible to all. It remains to be seen if this will be the case. (Read more about proposed rates here.) In any case, come January 1, 2014, all Americans will be required to be covered under a policy or choose to pay a penalty.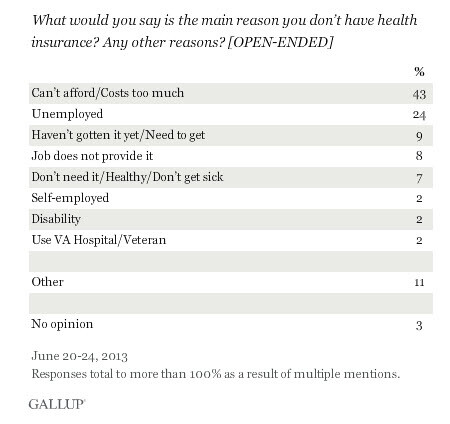 Other reasons people cited for choosing to go uninsured include being unemployed, not having benefits available through their employer if they are employed, being healthy and not needing it, being self-employed, being on disability or using Veterans benefits like VA hospitals, and that they just haven't gotten around to getting it. Those who reported being healthy as their reason for opting out create a potential problem as keeping rates lower for everyone will depend of having those healthy participants in the pool.
Results of the same poll also showed that 43% of uninsured Americans are not aware of the health insurance mandate that goes into effect January 1. Of those who are currently insured, 14% are unaware of the new mandates.
It is estimated that 48.6 million Americans are currently uninsured. A recent study published in the journal Health Affairs predicts that even after the implementation of the Affordable Care Act, 30 million people will still remain uninsured. It's expected that the majority of those who opt out of buying health insurance will be between the ages of 18 and 44, and have lower income. Although those with low incomes may qualify for subsidies, they may still be unable to afford their monthly premiums, and decide to pay the penalty.
It will be very interesting to see what happens as the Affordable Care Act unfolds. Please know that Sage Benefit Advisors keeps abreast of every update that is released, and is prepared to guide clients through these new changes. Contact us for more information!