Another possible adjustment to the Affordable Care Act has been announced. The new law allows insurers to charge up to 50% more in premium to a tobacco user than a non-user. (Currently, tobacco premiums can be up to 20% of the user's premium.) The new law also enacts another regulation on the amount charged, in that older tobacco users can be charged no more than 3 times that of a younger user. However, due to a computer system hiccup, tobacco rate-ups may not be assigned as planned.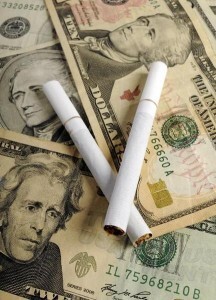 It is the 1:3 ratio with which the federal computer system has been having difficulty, and solving the problem is expected to take at least a year. The implications of this are not yet fully understood. The Obama administration is encouraging insurers to charge a flat penalty for any tobacco user, regardless of age. This may relieve some of the cost for older users, but raise the rates even higher for younger ones.  This may not make sense, as explained by insurance expert with the Kaiser Family Foundation Larry Levitt, "Generally a 20-year-old who smokes probably doesn't have much higher health costs than someone who doesn't smoke in any given year. A 60-year-old is another story."
Another option is to charge the full surcharge to every user regardless of age. This is not expected to happen, because it may discourage younger people from applying for coverage and they are needed in the pool to keep rates lower for all.
Those covered under an employer sponsored plan will be able to avoid a surcharge by enrolling in a tobacco cessation program, but this option will not be available to those enrolling in an individual plan. This new change is another in a string of delays and modifications recently announced by the Obama administration.