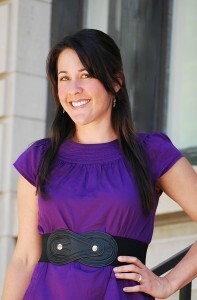 Last December, we sent Santa a letter asking for a great new employee. Specifically, we wanted someone who was nice, funny, smart, and an overall pleasure to have around. She also needed to be good with customers and a fast learner. Boy, did he ever deliver when he brought us Nora — we got exactly what we asked for! On that note, meet Nora…
Share a bit about yourself and your background.
I was born at home on a ranch in Sonoita, AZ. Aside from Arizona, I've lived in Las Vegas and San Diego. I moved to Fort Collins with my husband, now almost 2 year old son, and faithful pup just a year ago and we absolutely love it here.
What's your educational/ professional background?
I attended the University of Arizona in Tucson, and graduated with a Bachelor of Arts in English and Art History. I received my Master of Education degree from the University of California, San Diego and taught high school English, ESL and Art History for 5 years in California.
What brought you to Sage, and what do you like best about working here? What do you enjoy about your particular role in the company?
I was ready for a break from dealing with teenagers all day (although it feels sometimes oddly familiar when spending time with my coworkers!) and was ready to try something new. As soon as I met the Sage crew last December, I knew the company would be a great fit for me. I really enjoy the positivity and banter in our office, and I learn so much about the insurance industry every day.
Do you have any predictions, thoughts or feelings about the future of the insurance industry and all the changes to come?
I'm optimistic that healthcare reform in Colorado will benefit from a smoother transition than in many other states. We are leading the pack in being prepared for the changes to come. I appreciate being in an environment where this is studied and discussed every day, and I'm able to soak up all the knowledge I can about this ground breaking time.
What do you like to do for fun? What are your hobbies/interests outside of work?
I love living near the mountains, and try to take advantage of that as much as possible whether going hiking, camping or just being outside. In the winter, I would snowboard every weekend if I could afford it! I also enjoy traveling, cooking, reading, and spending time with my family and friends.
What would you like to be doing in 10 years? Any dreams/goals?
In 10 years I would love to be enjoying a successful career with Sage. Hopefully I'll have checked some items off my bucket list, like going whitewater rafting, attending the Kentucky Derby, traveling to Asia, and just watching my child grow.