Medicaid is the United States' health insurance program for low income individuals and families. Although states have the right to make specific rules regarding eligibility and income thresholds, the following groups of low income people are now eligible for Medicaid in most states:
Children
Pregnant women
Parents of young children
Disabled people receiving Social Security income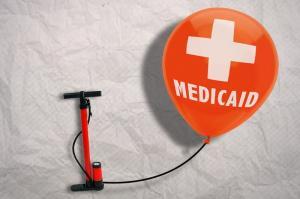 The Affordable Care Act (ACA) offers states the right to choose to implement Medicaid expansion, which will expand Medicaid to anyone whose income is less than 138% of federal poverty level (FPL). This means that all U.S. citizens, and legal residents who have lived here more than 5 years, will qualify for Medicaid if their income is less than:
$15,415 numberswiki.com

for an individual in 2012

$26,344 for a family of three in 2012
Colorado is among the states that have chosen to sign Medicaid expansion into law. For a full list of state by state decisions on this issue as of July 1, 2013, click here. Medicaid expansion will be fully federally funded from 2014-2016. During subsequent years, at least 90% of the Medicare expansion program will be funded by the federal government, with the rest paid for by individual states.
The Congressional Budget Office expects that due to Medicaid expansion, 11 million more people will be covered by Medicaid in 2022. State run and federal exchanges will be required to work closely with the Medicaid system to make sure people are covered appropriately.